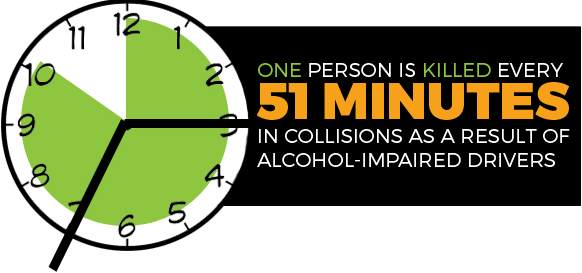 Driving while under the influence of alcohol or drugs poses a hazard to not only you, but everyone else on the road. Drinking impairs a driver's cognitive abilities and slows their reaction time, often causing accidents. No one who has been drinking or doing drugs should be behind the wheel, they should have a designated driver, call a cab, Uber or Lyft. They shouldn't be driving impaired, causing you to be a victim.
We offer expert representation and legal counsel for you or your loved one who deserve compensation for any injuries, hospital bills, lost wages, long-term medical treatment, or even funeral expenses. We understand the emotional, physical, and financial toll a drunk driving accident can have on your life and we want to help you through the difficult recovery process.
FILING A DRUNK DRIVER ACCIDENT CLAIM
A drunk driving accident claim covers drivers, passengers in the drunk driver's car, passengers in the other party's car, motorcycle or bicycle, and pedestrians. In order to win a drunk driving lawsuit, it must be proven that the driver had been drinking or under the influence of drugs and that the accident caused the plaintiff's injuries.
We will review and examine documents to determine whether you have a viable case. We will use the following as resources:
Police Reports: If the police came to the scene of your accident, they should make a written accident report. If the police believe either driver to be intoxicated they may administer a breathalyzer. If the other driver fails the test he/she should be arrested for DUI. Sometimes, the police report only mentions negligent behavior, without plainly stating that driving under the influence violation caused the accident.
Witnesses: Testimony and accounts from witnesses as to the number or amount of drinks, drugs, or medication consumed by the driver; the way the driver was acting (stumbling); and the way the driver was speaking (slurred speech). There may also be video of the accident available from surrounding businesses or homes.
Expert Opinion: Testimony and opinions by medical or law enforcement experts as to the amount of alcohol, drugs, or medication consumed by the driver; the effect of that consumption on a person's ability to safely operate a vehicle; and blood-alcohol or chemical evidence (such as field sobriety tests or blood tests in a hospital).
The drunk driver's past driving record, and their cooperation with authorities may be taken into consideration. The party may face fines, probation, or even jail time. They will also be responsible for paying for any damages (usually through an insurance company).
THIRD PARTY LIABILITY
In some cases, the provider of the alcohol, such as a bar or restaurant, or even a household member or a neighbor who allows drinking at their home, may be held responsible for the injuries from a drunk driving accident. For instance, if an establishment or a homeowner served a minor alcohol, or if a bar or restaurant continued to serve a visibly intoxicated person that could make them liable for a drunk driving accident. The lawyers will need to prove that the driver was, in fact, given alcohol by the other party, that the other party knew of the driver's intoxication or the fact that they were clearly underage, and that the driver's intoxication caused the wreck and subsequent injuries. As you can imagine, these cases are far more complicated and require experienced counsel.
WHAT TO DO AFTER A DRUNK DRIVING ACCIDENT
Immediately after a drunk driving accident, you should do all of the following:
Call the police. They will take witnesses' statements as well as document the accident in a police report. If you are injured in an accident and the drunk driver leaves the scene, try to
remember or write down as much information as you can about the other driver and the vehicle they were in.
Seek medical treatment. Collect evidence, take photographs of any injuries, the accident scene, or car damage.
Call Mark to discuss your rights
We work on a contingent basis, meaning we only get paid if you do, so rest assured we will work hard for you to get you any compensation that you are entitled to.
To learn more about your rights following a drunk driving accident, contact Mark Rosenberg 215-564-3006, or fill out our Contact Form today.